blog
What Is Your Company Doing to Plan for Disaster Recovery in the Workplace?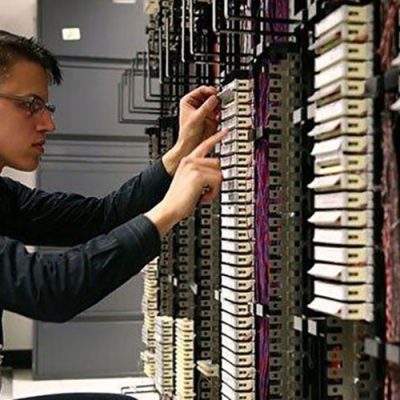 The workplace can no longer just be thought of as an office in a building where employees hang a few photographs and try to grow a few hardy plants. The amazing evolution of mobility and the epic gravitation towards remote and hybrid work have revolutionized the concept of where and what a workplace entails. One positive fallout from the pandemic is that companies have dialed into the necessary requirements for employees to work successfully away from the brick-and-mortar office building. C-suite execs, tech experts and other management personnel have learned the importance of using a virtual contact center or cloud-based contact center to optimize employee and customer communication in remote locales. Additionally, as the transition to remote work becomes more permanent, management professionals are learning that a key to successful customer relationship management is to have an effective IT disaster recovery plan ready to go for the all-encompassing workplace.
A Virtual Contact Center: An Evolution of a Traditional Call Center
The employees of a virtual contact center are geographically dispersed, instead of being located at one physical, centralized location. While agents respond to incoming and outgoing calls, emails, and other customer service requests similarly to a traditional call center, the tasks can be accomplished virtually because of advanced software. Below are some benefits of a virtual contact center. 
Organizes and routes calls.

A virtual contact center has the capacity to respond to customers efficiently and effectively. Virtual contact center agents can receive and make calls which helps keep customers and team members connected regardless of the remote locale. 
Able to span multiple time zones.

  Since virtual contact center agents are located in various geographic locations, they are able to span different time zones. Flexible time zones allow for increased customer responsiveness and flexibility because agents are able to provide support to customers whenever and wherever required.  
A virtual contact center provides multiple customer service functions, which helps increase the connectivity and professionalism of an organization. Virtual contact center software is cloud based.
The Sky's the Limit: Cloud- Based Contact Center or Cloud Contact Center?
A cloud-based contact center utilizes web-based software platforms to handle a businesses incoming and outgoing communication with advanced functionality. As the name implies, a cloud contact center is based on the web. There are many advantages to using a cloud-based contact center, which include the following.
Provides various communication options

.  Business leaders are recognizing a key to successful customer relationship management is to offer an

omnichannel approach

for customer communication. A cloud contact center allows businesses to communicate via phone, email, text, and social media to manage their customer service experience. 
Allows for scalability.

A cloud-based

contact center allows

for as many or as few agents as necessary depending on seasonal and fluctuating business requirements. Agents can easily be added or removed as required.
Offers flexibility and accessibility.

  The technology of a cloud contact center makes it accessible to employees and customers from anywhere with a quality internet connection. This allows for qualified agents to be recruited. A cloud-based contact center is easily integrated with other business systems. 
A virtual contact center/ cloud-based contact center offers advanced technology to help businesses provide optimal customer service experiences. Business managers know a key to successful customer relationship management is to prepare for information technology (IT) disaster recovery in the workplace.
Plan Ahead: IT Disaster Recovery Strategies in the Workplace
It is important for businesses to have a disaster recovery strategy to negate the possible risks to the continuity of business operations in the case of a natural or manmade disaster. While disaster recovery plans are comprehensive, there are some key elements to consider.
Create an official disaster recovery proposal plan.

 It is important that

upper-level management

is a part of the creation of the disaster recovery plan. The disaster recovery proposal outlines which employees are responsible for creating and implementing the plan. 

Make available multiple lines of communication.

An important aspect of a disaster recovery strategy is to have available detailed lists of employee and customer contact information using whatever available platform. 

Plan for data back-up. 

A solid disaster recovery strategy includes backing up data and storing it on third party servers. 
Businesses of all sizes have an increased dependency on computer networks and electronics since the all-encompassing shift to remote and hybrid workspaces. Knowing which telecommunications company to turn to for help when developing a disaster recovery plan is crucial.
TernioSwitch: Keeps Businesses Connected Despite Interruptions!
Ternio is an innovative telecommunications company designed with the goal of helping to keep businesses moving forward, regardless of encountering large or small disasters or interruptions. What does the fully integrated TernioSwitch app offer to enhance an organizations' disaster recovery plan? 
Ensures customers data is secure. 

TernioSwitch uses the highest standards in the tech industry to keep customer's data secure. Data is transferred over

HTTPS

. TernioSwitch encrypts all customer data and uses resilient storage with Microsoft Azure. TernioSwitch utilizes strict policies and procedures involving the

security, availability, processing, integrity and confidentiality of customer data

.

Offers excellent recovery times.

  TernioSwitch boasts Recovery Time Objective and Recovery Point Objective of less than 24 hours with a threshold of three hours after a disaster recovery. The platform components of TernioSwitch are

redundant

. A distributed grid construction system protects the system and services from possible server failures. Even if there is a server failure, TernioSwitch will be available to users. 

Allows businesses to stay connected to customers.

TernioSwitch has the capabilities to keep businesses connected to customers

during blackouts and WIFI issues

.  Agents are available to customers anytime, from anywhere. Agents can control their available status on the app. Even when WIFI goes down, the TernioSwitch app allows for agents to remain connected to customers. 

Ability to control on-call workforce. 

The capacity to scale an on-call workforce with TernioSwitch as call volume increases is an important part of a disaster recovery plan.

Capability to shift critical workforce. 

In the event of a disaster, TernioSwitch allows for a critical workforce to be switched to mobile within seconds. 
Navigating the management of a remote workforce is still somewhat new territory for business managers. Making sure an organization has a comprehensive workplace disaster recovery plan is imperative for the security and continuity of an organization. A key for successful customer relationship management is to use technology to ensure interruptions do not impede business functions. TernioSwitch is an innovative and impressive telecommunications solution to include in a progressive disaster recovery plan for the workplace.  Let Ternio be part of your business' disaster recovery plan. 
Contact us today for more information about our product, so we can help your business continue, even with unforeseen natural or manmade disasters.
Get started today
Join the mobile workforce wave.
Explore the most powerful and easy to use mobile solution for your contact center.