blog
The Benefits of Mobility: The New Watercoolers for Bringing Teams Together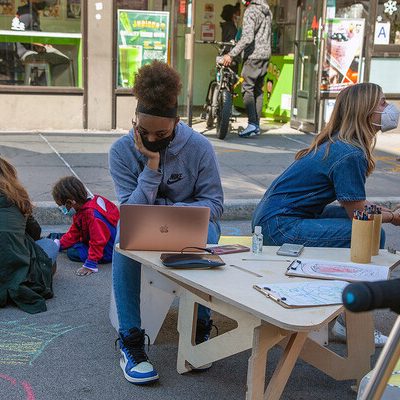 Flexible work (remote and hybrid) is here to stay! At least that is what a myriad of global research studies have confirmed, and what most people already suspected and hoped. According to Flexjobs, 3.9 million employees in the United States spend most of their days working away from the office. Amazingly, 18% of people in the workforce, which is 2 out of every 10 people, permanently work remotely.  Companies are trying to figure out what is mobile workforce management and how mobility can help companies feel more confident with a remote team. This article will explore the importance of mobility and some technological innovations supporting the mobile workforce; explain what is mobile customer relations management (CRM), and contact center automation.
Enabling Efficient Mobile Work Force Management and Virtual Contact Centers
Before explaining what is mobile work force management, a definition of mobile work force is necessary. A mobile work force is a group of employees who are not connected by a physical office, rather, the employees are connected by various mobile technologies such as computers, smartphones, and similar mobile devices. Part of what is mobile work force management requires specific resources  designed for managing remote team members. The tools and processes used to support mobile workers is part of what is mobile work force management.  A mobile app is an effective tool to improve the productivity and effectiveness of a mobile work force in the following ways.
Ties teams together.

A mobile workforce team can be fully integrated into the same platform, which is part of what is mobile work force management and a useful management benefit in keeping teams connected to each other, management and customers.  
Supports employee mobility

. The virtual contact platform allows a mobile workforce to respond to phone calls from various locales. Employees are able to log into a virtual contact platform from any device with an internet connection. 
Positive customer relationships are imperative to a company's long-term success, especially when they are enhanced by positive mobile customer relationship management and mobile CRM.
What is a Mobile CRM?
Mobile CRM empowers remote employees to use mobile devices such as smart phones and tablets to access customer data and customer accounts wherever they are. Allowing the same ease of use as a person would experience from a desktop is one quality of what is mobile CRM. Mobile CRM can offer increased communication amongst departments as people in remote locations can communicate with other team members. The exciting part of what is mobile CRM is that manual or task-based information is now being digitalized and augmented by mobile devices and mobile business applications. Now, cloud-based contact center can be accessed anywhere from a mobile or IoT device. 
Also, mobile CRM has allowed for tasks to be streamlined and improve productivity, which includes enabling contact center automation. It offers access to contact and lead generation in addition to multiple forms of communication all through the mobile CRM app. Importantly, a mobile CRM app integrates with contact center automation services so your call agent can work efficiently and handle multiple communication channels at the same time on multiple portable devices.
What is Contact Center Automation?
Contact center automation is an exciting aspect of the technological developments of virtual contact centers. To understand what is contact center automation, it is important to review briefly the meaning of automation. Automation is the process of using technology to perform tasks humans used to perform. Tasks which can now be performed by technology and systems. Contact center automation refers to the automation contact centers are using to improve customer service and expand efficiency.  An integrated approach between channels of communication is an important benefit of contact center automation. 
Choice of communication channels is important.

An omnichannel approach is imperative to overall customer satisfaction. Customers want choices in how they communicate. Interactions need to be integrated across communication channels, with necessary information and customer background information available.

 
Variety of digital channels is the key.

A seamless customer experience requires omnichannel communication options; smartphone apps, SMS, live chat, conferences, chat bot, inbound, outbound, transfers and voicemail.
Contact center automation has helped foster exciting changes in mobility as related to virtual contact centers. Contact center automation has helped keep remote teams thriving and management accomplishing necessary team goals, especially with the assistance of the mobile CRM app to create the more effective virtual contact center possible for your remote or hybrid team.
Virtual Contact Centers Benefit From Mobility Abilities
Flexible, creative, employment options are now a part of the work culture. Effective management of remote teams is the new norm. Knowing how to keep remote teams connected to each other and customers is a new challenge of leadership, without the option of the good old-fashioned watercooler. Utilizing mobile solutions is a winning strategy for open minded team leaders. 
Mobility is critical to the foundation of a flexible work strategy because it enables connectivity and productivity in employees. One effective mobility strategy involves utilization of a virtual contact center to better help employees feel connected to each other, management, and customers. What is the connection between mobility and a virtual contact center? 
Reliance on mobile devices.

In order to communicate effectively wherever they are, and whenever they want, employees need to rely on efficient mobile devices and stable Wi-Fi connections.

Mobile communication tools

are imperative for workers and customers to feel connected, regardless of time zones or locale.

Innovative options so a workforce can be mobilized.

An advanced yet easy-to-use application mobilizes a workforce so agents can be available to customers from anywhere in the world at any time.
Mobility means communication options. 

A variety of mobile communication tools is necessary to help team members and customers feel engaged regardless of location.

Mobile apps, platforms and web apps

need to be available as a communication alternative.  

Flexibility is important to mobility.

An

open mindedness

to allowing employees discretion as to where they work, and determining their own schedules is a part of mobility.  The shift to remote work has come with

widespread implementation of creative technology

, such as virtual contact centers, which has contributed to the

confirmed increase in overall productivity

of remote work. Companies today need to adapt to the changes happening in the mobile workforce, which includes understanding what is mobile work force management and accessing important tools and strategies available in the management of a mobile work force.  
Mobility is the cornerstone of effective communication in a remote workplace and is paramount to what is mobile work force management.
TernioSwitch Can Help Remote Teams Stay Connected and Keep Customers Satisfied
TernioSwitch is a cloud-based, progressive app which is able to enhance mobile agents' overall capabilities. For example, the following are some of the innovative capabilities of the TernioSwitch app.
Able to configure and route calls.

TernioSwitch allows team members to respond efficiently and effectively to customers, other team members, and to management. 
Enables data to be available.

With

TernioSwitch,

a mobile user's data is available on any CRM as well as analytic tools if they are integrated with the business.

Offers team members and customers flexibility.

Agents are geographically disbursed with TernioSwitch, which allows them to span multiple time zones. This offers flexibility in work schedules for employees; while still being able to maintain responsive customer service, regardless of deviation from a standard work schedule.  

Allows customers preferred communication channels.

TernioSwitch provides omnichannel options to customers to communicate in their preferred manner, an important aspect of mobility.

 

Omnichannel such as

SMS, live chat, transfers, conferences, inbound, outbound, and voicemail

are available to employees and customers through TernioSwitch.  

Increase proficiency and enhance customer experience.

Contact center automation through TernioSwitch offers a variety of communication channels to increase proficiency and improve the customer experience. Omnichannel communication options include texts, calls, emails, messenger, and chat bots. Chat bots and analytic tools are examples of how the TernioSwitch cloud-based app augments agent capabilities with contact center automation.
Ternio offers telecommunication solutions to help team leaders feel more confident managing remote teams. So, grab your cell phone, tablet or other mobile device and contact Ternio!  Let Ternio help your company keep up with the mobile workforce trends. 
Contact us today for more information about our product, so we can help you feel confident with a remote team.
Get started today
Join the mobile workforce wave.
Explore the most powerful and easy to use mobile solution for your contact center.