blog
What is Holding Your Company Back From Allowing a Mobile or Hybrid Workforce?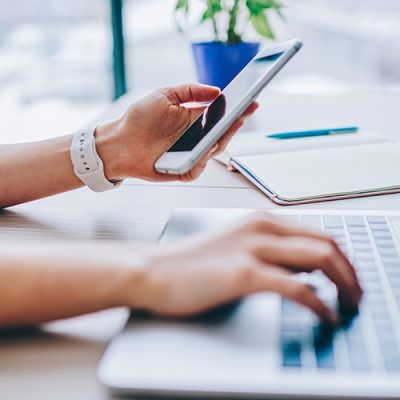 In today's increasingly digital and teleworking world, workers want more mobile or hybrid job opportunities than ever. More employees want options to work remotely, telework, or have a hybrid option, and even flexibility with their work hours. Mobile and hybrid work opportunities are a significant departure from the traditional office model. 
Many companies have been hesitant to make the change, due to reservations stemming from bureaucracy issues, IP and cybersecurity concerns, customer service apprehensions, and a general lack of familiarity with new technologies and management policies to keep employees effective outside the physical office. Companies have had to adapt or lose talent. Some have embraced new technologies and procedures to help them make the transition from the traditional office workforce to one that is remote or hybrid. They have seen overwhelmingly positive results with making the switch.
Pain Points Virtual Contact Center Agents May Face With Mobile Work.
As more companies transition to the mobile and hybrid workforce environments, C-suite and upper management may have initial reservations and hesitancies. Some companies may experience a few pain points with their workforce as they transition to mobile and hybrid work life.  
Communication issues

. Mobile, remote, and hybrid employees might face some communications issues while working away from the physical office. Messages sent through emails, texts, messages, and other communication channels can be lost in translation over the internet. With the lack of face-to-face conversations, employees might struggle with the lack of human interaction and understanding messaging tone. Also, remote and hybrid employees might feel a lack of support when working alone. 

Solution

. Cloud-based software enables remote and hybrid work situations to offer a myriad of communication options, even video conferencing services for employees to see each other. Also, if a contact center agent is on a customer call, they can use one of the many communication options to contact their coworker or manager for assistance so they have immediate support.

Working too much

. Managers fear that remote or hybrid employees working from home will work too much. Sometimes it is difficult for employees to switch off from working when it is accessible in the home. Their work and home lives get blurred.

Solution

. Managers can use software, such as one designed for workforce management, that tracks employee hours and logins. When an employee is working too much or outside normal hours, a manager can see and check in with the employee. 

Interruptions

. Working from home can cause additional disruptions during the workday. In the office, you might experience a drop-in from a manager or coworker to chat about the day or a family issue or have an impromptu work meeting. Now, those interruptions are replaced with children wanting attention, packages being dropped off, a neighbor dropping by, and more. 

Solution

. Flex time is one way to help mobile employees deal with interruptions in the home during work hours. Employees who have children need to be able to schedule school runs, play dates, and activities, so flex time can offer that ability. Additionally, cloud-based platforms enable the employee to log off and log back in seamlessly so they can continue their work. 

Harmonization and Technology Issues

. While technology is incredible with how it makes a mobile and hybrid workforce possible, it does hiccup sometimes. Nothing is worse than an employee trying to work from home and something disconnects from the server at the company's office. 

Solution

. Employees need to access the same documents, contacts, emails, and other work-related necessitates while working from home. Using a cloud-based system enables the contact center agent to use the same credentials for the mobile app as the desktop or laptop computer so they can log into their work from anywhere at any time. Also, cloud-based platforms can help 24/7, so if a contact center agent working remotely has an issue, they can get help immediately.
How can you solve these pain points before contact centers lose their best call agents? Companies who embrace technologies that are designed specifically for remote and hybrid work situations will be able to ease these pain points better, including for workforce management.
Effective Workforce Management in a Virtual Call Center.
A cloud-based contact center enables your employees to live and work from anywhere or at least have the option to work from home a portion of the workweek. With the right workforce management assistance, virtual call centers will enable the transition from 100% in-office employees to one that is either hybrid or completely remote. Your employees will thank you!
Hybrid and mobile workforce would not be possible without an effective Workforce Management (WFM) system. WFM can help a cloud contact center use data to determine their staffing needs. However, companies will need to embrace cloud-based life, especially to transition from an in-person contact center to the modern virtual contact center. Contact centers are no different from other companies and can make the switch to a cloud contact center. 
Let's first explore the question: What is workforce management and how does it function in a call center, exactly? Generally-speaking, workforce management refers to an integrated set of technologies and processes that companies use to optimize employee productivity. It enables companies to gain insights into business metrics, tracks employee performances, payroll and benefits, vacation and leave planning, compliance, and even forecasts labor requirements for certain jobs, to name a few key functions. 
In a virtual contact center, workforce management in a call center enables the most valuable employees with the best contact center skills to be scheduled at the right time to handle calls. It tracks employee performance so managers know who is performing well and how to schedule effectively. Also, WFM can predict the volume of communications, the peak times and dates, and scheduling the right number of employees to handle them. WFM systems enable Contact center software integrates with a company's support platform to provide a seamless virtual contact center experience. It also provides data analysis in real time so contact centers can adjust in real time. 
In the past, this data would have to be calculated by hand or a manager would have to use their own (perhaps misguided or biased) judgment, but now it's done by software and available through the cloud that can be accessed anywhere. These features are critical for a successful cloud-based contact center and enabling a mobile and hybrid workforce for your company. 
Virtual contact centers who use workforce management platforms often see reduced employee turnover, improved customer service, greater operational efficiency, and reduced overhead costs.
Ternio Offers Mobile and Hybrid Work Solutions.
More contact center companies want to make the switch to being a cloud-based contact center, they will need to start the transition to having a completely mobile or hybrid workforce. But they may not know how to make the first step. 
With its innovative design and technology, Ternio can assist your company from a place-based contact center to one that is a totally virtual contact center. As a company founded on supporting remote workers, Ternio creates mobile-oriented products with remote workers completely on their minds. Workforce management has never been easier. 
The mobile app seamlessly integrates with your company's cloud-based platform, offers omnichannel modes of communication, and provides real-time data analytics to evaluate performances. You can feel confident that your virtual contact center will be a success and even improve employee performances and customer services. 
Reach out to us today to find out more about our mobile app, so we can help you feel confident with a mobile and hybrid contact center team.
Get started today
Join the mobile workforce wave.
Explore the most powerful and easy to use mobile solution for your contact center.