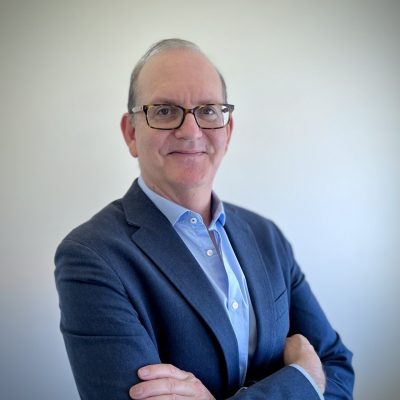 Can you introduce yourself and share a bit about your background?
Jonathan White: 
I'm Jonathan White. I'm the COO and Co-Founder of Ternio and the TernioSwitch mobile app. So, I have an eclectic background coming into corporate life. I started out in the visual arts, and then shifted many years later into life coaching. I met Jill Blankenship, now my business partner and co founder of Ternio, in 2015. When we met, we started talking about contact center technology, and began to explore new ways in which it could be applied. We ended up starting Ternio when we realized there was an opportunity for us, and now some years later, we are working with Fortune 50 companies, and the company's rolling. 
What were some of the conversations that you had with Jill about creating a mobile app like Ternio Switch? Were there problems that you guys were noticing in the industry? What sparked this idea for you both and made you decide this is what you needed to do?
Jonathan White: 
Our initial conversations were around contact-center technology and some technology that Jill was thinking about. When we dove more deeply, we saw how it all really had to do with connecting- connecting people. We started to explore where we thought the future of the contact centers were going, and it got very clear to us that the industry was going to be moving towards more of a remote workforce. That's where the direction of our conversations went. And then, after starting the company, that continued to be our primary focus.  We initially built a platform for life coaches to streamline how they connect to their clients.  Our platform automated all of the backend connecting of calls as well as the billing part of the transaction.  It took some years for us to pivot, redirect and get hyper focused on the mobile app. And that's when the TernioSwitch, was launched. 
It's great that you both saw that the future was going to be remote before the pandemic even happened. And now, obviously, I would imagine with the COVID-19 pandemic, that has undoubtedly heightened the need for remote work. Did that moment in time build momentum with Ternio? What happened during the pandemic with Ternio Switch, specifically?
Jonathan White: 
That's a great question. Interestingly, one of the biggest challenges we had, prior to the pandemic, was educating companies about what a remote workforce looks like. There were many companies that were beginning to use us as they began to develop their own remote workforces, but we found our biggest challenge at that time was actually the educational piece. Most companies simply did not know how to run or envision remote work within their organizations. I hate to say it in these terms, but what we got out of the pandemic was that we no longer had to educate anybody about what a remote workforce looks like. Now, every corporation that we speak to, about 75% plus, are either going to a hybrid model or exclusively remote. So, this is now clearly the future for all of us. 
Are there trends that you expect to see, or imagine that we're going to see, in the remote workforce space in the next 12 to 24 months?
Jonathan White: 
I think the whole industry is recognizing that it has a bigger role than just simply sending calls back and forth between customers and agents. That's why omnichannel is really exploding. There's going to be, not only social media connections, but an expansion in areas around how agents actually support their customers. I think this is an interesting space and is going to continue to expand, and Ternio is going to be on the forefront of that moving forward. 
In your opinion, what are the big benefits of working remote? From your own experience of working remote, and now leading a company that is aiding the remote working space?
Jonathan White: 
As you know, Ternio, from the start has been a telecommuting, remote workforce company. I think many companies who have been forced into a remote workforce are concerned about employee productivity, and some employees are concerned about their work-life balance. There's the illusion that because you can work anywhere that everybody works all the time. The fact is, there's no time spent commuting. All the challenges that involve going to the office are eliminated. So, initially, employees may start working more hours, but then they generally start to realize that by creating some parameters they can be much more focused, much more productive than they have ever been was working exclusively in an office. So there are huge benefits both for the companies as well our employees.   
In your opinion, what are the biggest benefits of adding TernioSwitch to your docket?
Jonathan White: 
Using the TernioSwitch allows anybody to stay connected to their customers from anywhere in the world. So, obviously, if I have to be behind my computer for certain reasons, that's great, but if there's some flexibility there, letting agents have the TernioSwitch available to them allows them to step away from the PC if need be, and stay connected. The bottom line is, it raises the customer support to the highest level. 
What was a personal highlight for TernioSwitch in 2021? This could be an event, or partnership, or whatnot, but what was a really large highlight in 2021 with Ternio?
Jonathan White: 
Ternio's been expanding into multiple contact centers. We are so excited about these partnerships and having the opportunity to support as many customers as we can. For me, that's been a huge highlight.  Our team has really stepped up to address our expanding platform from sales to development.  The teamwork that has allowed this to happen is what I'm most proud of. 
What are the future goals that you guys are working towards with Ternio? Are there any future goals or future things you guys are hoping to do with Ternio, overall?
Jonathan White: 
Well, we are getting to be known as the mobile app for the contact center world. Our goal is to support companies across all of the major platforms in the industry, and as the name Ternio implies (it's a mathematical term for a group of three) we see Ternio as that third piece of the connecting puzzle.  We are all about empowering and supporting those connections. 
What are, for some companies that you have been working with, the majority of their problems, and how has TernioSwitch been the solution?
Jonathan White: 
Well, there's no simple answer to that question which is interesting.  Because the TernioSwitch is used across many different industries, each one seems to come to us with a gap that we can fill. So I'll briefly just answer that with, for example, we work with major pharmaceuticals, one of which had released the Covid vaccine early on. They came to us because they had some very strict requirements that did not allow their field agents to be able to speak on their mobile phones for compliance and regulations reasons. Once they learned about the TernioSwitch, and how all interactions can be tracked, recorded and audited, they decided to distribute the app across their field force. It immediately changed the way those mobile agents could work, because for the first time, they could actually be going out to the facilities, hospitals and distributors and meet with them as they normally had been doing. But now, between those visits, for the first time, they were able to stay connected to these customers, supporting  their needs, and just be much more available to them than they had ever been able to be before.  So that was a huge boon for them. So many organizations, because of new regulations, are starting to use the TernioSwitch, because of its ability to track and record all communication with customers from anywhere. 
The second piece, which is also becoming very important for a lot of organizations, is this idea of business continuity and disaster recovery. So, the beauty here, and again, this could be for all agents who are behind the computers, is if there ever is a blackout or WiFi goes down, and they have access to the TernioSwitch mobile app, they can simply login to the TernioSwitch and immediately continue to be connected to their customers. So even in those instances where all communication stops from a PC, they have access to the TernioSwitch on their mobile device giving them full access to staying connected to their customers. 
What has been your favorite part about leading Ternio, and TernioSwitch, and working on Ternio for the last five years?
Jonathan White:
The creativity that goes into building something that started from an idea, and through some very focused steps, becomes a valuable product that is out in the world helping companies, agents, and customers. All of this comes from blending clear thinking and beautiful code writing – it's like creating something out of nothing. And the challenge and the beauty of guiding an amazing team to accomplish this has been a joy.
Is there anything from your background in life coaching, that you feel helped you in creating TernioSwitch, or in leading the team with TernioSwitch?
Jonathan White: 
Well, all life experience crosses over. So, yes, my life coaching experience absolutely crosses over in just being able to support my team in any way that I can, to guide us in a direction that's going to be successful for all of us. The bottom line for life coaching, from my point of view, is simply problem solving- eliminating friction.  And so, having years of experience helping people problem solve has been a boon for the company because we can all take on that mindset to look for and eliminate friction wherever we see it.  And so these are aspects of life coaching that have had a huge impact on the success of the company. 
Is there anything else that you want to add?
Jonathan White: 
I am just really excited about the future of Ternio. With the products that we will be coming up with as we watch the future of this industry unfold. So, I'm thrilled. 
Get started today
Join the mobile workforce wave.
Explore the most powerful and easy to use mobile solution for your contact center.